Bristol Radical History Week 2006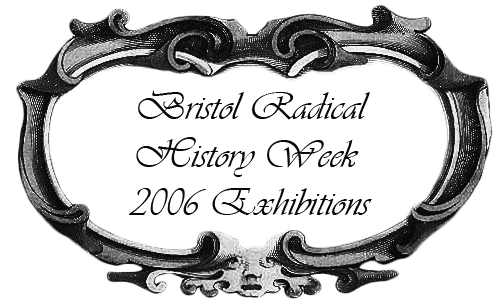 At The Spy Glass
An exhibition opening on Sunday 29th October including prints of the 1831 uprising, images from slave rebellions, photographs from the 1987 uprising in St. Pauls and an actual cell door (complete with prisoner's graffiti) from the Bristol city jail (cira 1840).
The Exhibition includes A Luta Continua (The Struggle Continues) by Bandele Iyapo (artist and "trouble maker"). This consists of works in a variety of media including a collection of montages critiquing the inability of Bristol's establishment, both business and civic, to come to terms with the city's role in the slave trade. Bandele's thought provoking work ruffles feathers and challenges misconceptions such as: "there where no slaves in Bristol" and "there is a bridge in Bristol that is a monument to slaves".
The exhibition will ran until Sunday 5th November.
Bristol Central Library
For the whole week there was a display of historic radical journals from Bristol such as Coleridge's Journal The Watchman and the original Bristolian.
There was also be a special viewing, conducted by Jane Bradley the Local Studies Librarian, of the Bristol Room which contains among other things Judge Jeffreys' (the 'Hanging Judge') chair - 2pm on Monday 30th October. The Bristol Room is designed as a memorial to the old library in King Street. It contains the original bookcases and fireplace surround from that building. The library was founded in 1613 as a free library for the citizens of Bristol and also shared premises for some time with the Bristol Library Society, of which the poets Southey and Coleridge were members.
At The Bristol City Museum & Art Gallery
11:30am - 12:30pm Friday 3rd November, in the Conference Room.
Generously, Bristol Museum allowed a special viewing of a series of paintings, water colours and engravings depicting the 1831 Queens Square uprisings and their aftermath. Artists such as William James Müller (1812-1845) and J. B. Pyne were present at the events and recorded them for your viewing pleasure. Sheena Stoddard the Curator of Fine Art and an expert on Bristol painters also gave a talk about the paintings.