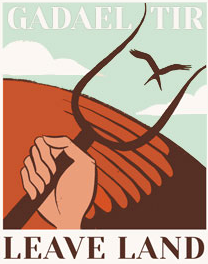 Bristol Radical History Group, the Cube Cinema and the South West Land Justice Network are delighted to present the English Language version of Gadael Tir / Leave Land. Owen Shiers and Gwilym Morus-Baird will treat us to a live-performance show that tells the story of land rights and protest in Wales. This follows the popular and successful performance at the Cube by their English sibling show Three Acres and a Cow, which we hosted in October 2019.
Description from the Gadael Tir / Leave Land website:
"Gadael Tir follows the trials and tribulations of the common folk who strove to build the nation from the ground up, as we tell their story through sing-along choruses of traditional songs; heart wrenching tales of desperation and perseverance; cross-dressing, axe wielding farmers; radical preachers, land workers and unions, all encompassed by a thousand years of history squeezed into one performance.
As well as drawing heavily on the folk arts of Wales, the show touches on many themes including politics, human rights, freedom of thought and expression, the right to protest and the history of British democracy".
For further information see the Gadael Tir / Leave Land website.
For booking details for the event in Bristol on Friday 15th May 2020 see the Cube Cinema website.