Bristol Radical History Week 2008
Off With Their Heads
Assassins, Plots & Regicide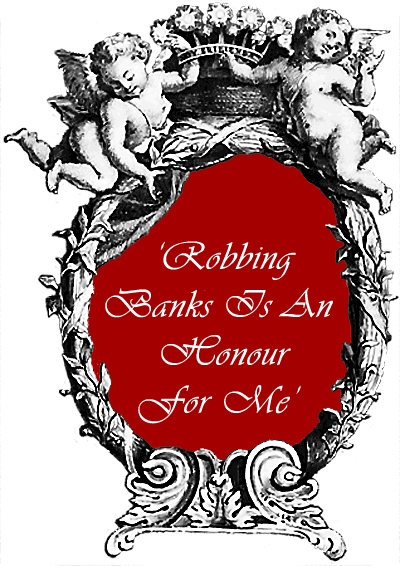 Date: Monday 20th October
Venue: The Cube, Dove St. South off King Square.
Time: 7:30pm
Price: £3/4
An Audience With Lucio Urtubia
Speaker: Lucio Urtubia
As a tasty hors d'oeuvre to Bristol Radical History Week 2008 we are extremely pleased to present Lucio Urtubia, anarchist, bank robber, forger, fugitive and above all bricklayer.
Lucio's life is the stuff of legend. As an activist in 1950s Paris he counted André Breton and Albert Camus amongst his friends, worked with anarchist guerrilla Francisco Sabate in attempting to bring down Franco's fascist regime and carried out numerous bank robberies to fund the struggle to free Spain. In 1977, after having his earlier scheme to destabilise the US economy by forgery rejected by Che Guevara, he put his plan into action. Lucio successfully forged 20 million dollars of Citibank travellers cheques to fund guerrilla groups in Latin America, bringing the bank to its knees in the process. In between he helped organise the kidnapping of Nazi war criminal Klaus Barbie from his hideout in Bolivia, aided the escape of Black Panthers from the US and not surprisingly was targeted by the CIA. Lucio has defended his life's work saying… 'we are bricklayers, painters, electricians - we do not need the state for anything'.
There's much more, suffice to say he has led an extraordinary life and will be speaking about his experiences for one night only in Bristol.
Lucio
Film: Directed by Aitor Arregi and José María Goenaga, 93 mins, 2007. (8.1/10 on IMDB)
"The banks are the real crooks," says Lucio Urtubia decisively. "They exploit you, take your money and cause all the wars." Lucio therefore had no moral scruples about forging Citybank travellers' cheques. His motivation was not his own gain, but to dent confidence in this powerful financial institution. Lucio was arrested for this and ended up in prison, but soon got back on his feet. Lucio is an engaging portrait of the anarchist Lucio Urtubia, born in Northern Spain in 1931, and who deserted from the Spanish army during his military service, going on to work as a tiler in Paris, where he immersed himself in the world of the Spanish exiles. Rapidly inter-cut archive images, interview fragments and reconstructed impressions are used to look back on his incredible life. A meeting with the legendary Quico Sabaté (1915-1960) put Lucio on the anarchist path, whereby his talents as a forger of identity papers and currency came in particularly useful. His real anarchist nature is revealed in his highly particular, carelessly expressed visions of phenomena such as Franco, Che Guevara, Fidel Castro, the Black Panthers, May 1968 and the institution of marriage. This gives body to a lively 'cops and robbers' story in which - according to the best traditions - the true scale of Lucio's role is never completely revealed.
International Documentary Film Festival Amasterdam
To watch the trailer click here.