Bristol Radical History Week 2006:
James Nayler
Commemoration
The James Nayler's entry into Bristol and subsequent trial in October 1656 was reconstructed on Saturday October 28th October as part of the Bristol Radical History Week 2006.
"Is not the Lord overturning, overturning, overturning?"
James Nayler, 1653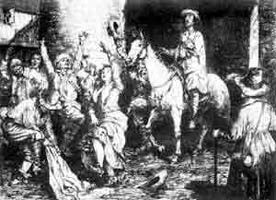 James Nayler's Ride Up Corn Street
Photographs By BRHG
James Nayler's Arrest and Trial
Photographs by Simon Chapman, Copyright 2006.
simonchapman@tantraweb.co.uk
See a slideshow of these photographs by clicking here.
The captions in this section include the script from the Commemoration.
James Nayler's Punishment
Photographs by BRHG